Charles G. Finney
Birthplace
Finney's autobiographical sketches of his life and ministry can be found in his Memoirs: in it he writes:

"I must commence by giving a very brief account of my birth, and early circumstances and education, my conversion to Christ, my study of theology, and my entering upon the work of the ministry. I am not about to write an autobiography, let it be remembered; and shall enter no farther into a relation of the events of my own private life than shall seem necessary to give an intelligible account of the manner in which I was led, in relation to these great movements of the church.

I was born in Warren, Litchfield county, Connecticut, August 29, 1792. When I was about two years old..."
Memorial Plaque Imbeded in Stone Monument Erected by Oberlin College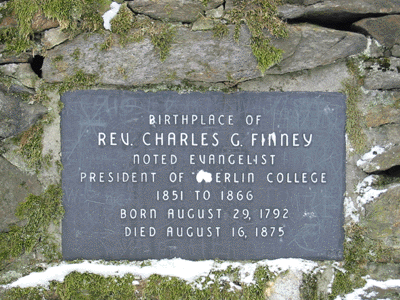 A Close Up of the Plaque
---
Main Residence
Front
Side
Rear/Side
Secondary Building
Photos by
Richard Santorelli
Return to LIFE MEMORIES and BIOGRAPHIES of CHARLES G. FINNEY